Before I made a some what serious attempt to begin refinishing furniture for a hobby, last April I brought our bedroom side table outside and spray painted it with black spray paint. A quick and quite shabby job. Now, there's nothing wrong with using spray paint, but I did absolutely NO preparation. Zero. The results were okay at best. What I mean by that is: the paint was uneven, the surface was very rough in spots which caused it to collect way too much dust and the paint rubbed off in places to the touch. Well, it's been sitting put in our living room and I have done nothing to improve our living room in our new fixer upper or nothing to improve the condition of my shabby night stand paint job. After dusting it for the 1 millionth time today (that's a major exaggeration because I dislike dusting), I really had to do a quick fix.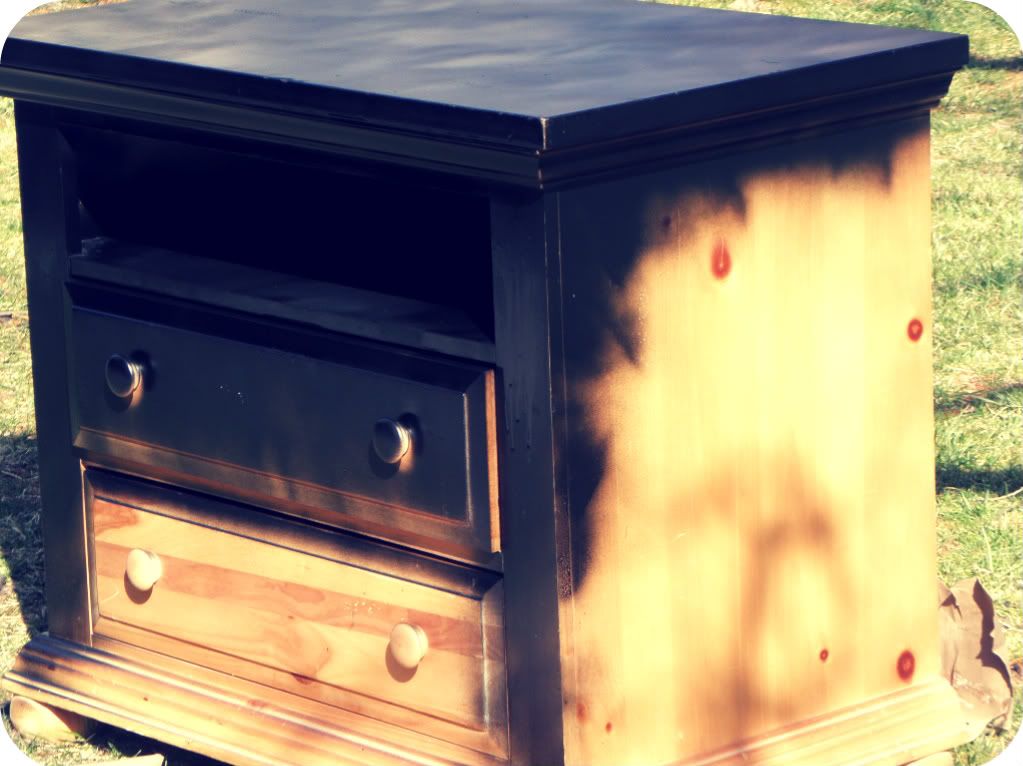 Here it is on the front lawn of our rental last April.
This is the before look. We have two of the them I purchased in a second hand furniture store in Rockland, Maine that no longer exists. They came from a local resort that was redoing their interior. I need to work on this one as well. And my junk thrown in there. I have started on our bedroom and I am almost finished with the wall paint job. I just need to paint the furniture, build a head board and get rid of the junk you can see. We are storing stuff until I finish painting.
I think distressing a bad paint job ALWAYS helps. And sanding down the rough spots if you are not such a great spray painter
.
You may see a few white specks/lumps – I just finished waxing. Waxing is another great way to fix a bad paint job. It helps soften & smooth out a surface AND it helps seal the paint job when you use a paint that is of low quality. I love the way a wax finish feels. So luxurious.
The wax hasn't completely dried, but you get the picture.